Everything that we do on a daily basis is somehow related to business.Some people have strength in some business skills while being weak or vulnerable in others. As a computer engineer who is involved in technical activities day in and day out but not yet managed or productized ideas, I desparetely need business side of the equation. Exceptional people like Bill Gates can do with out a degree but for an average person MBA may serve a good ship to break the barriers and an entry into the business side of a corporation.
In searching for a broader set of business skills I started exploring various options like taking the one- or two-day management
training courses offered by my employer and shadowing managers who are good business leaders to observe their leadership qualities. These learning opportunities have helped me to some extent, but I realize the need to complete an MBA program to help me shape my business skills to the fullest extent possible.

The change is what I felt MBA provides that opens up to wealth of oppurtunities.Here are very few important ones –
– Building up a successful portfolio of business knowledge and skills
– Learning people skills, especially around communication and teamwork
– Getting used to working under stress.
– Learn from a group of fellow students with a very diverse background (not a software or IT tunnel vision that I have)
– Build network of colleagues, MBA alumni
Is MBA worth the time, effort and cost ? MBA provides training in the theory and practice of business management and certifies a person of general competency in all the major functional management roles.What MBA (part time, full time or accelarated) to get is difficult question to answer and totally depends on situation of the degree seeker.There is the question of the economy too. Some people think it's a good hedge to get an MBA during an economic slowdown a safe haven rather than face the tough job market; however, when the economy is bad, even having an MBA is no guarantee of obtaining a lucrative job offer. The best advice? Talk to recruiters and MBA career placement counselors and read the current trends in magazines such as Business Week, Success, U.S. News and World Report.
Regardless of the type of MBA, the core topics you'll encounter include:
# Accounting
# Quantitative analysis
# Economics
# Marketing
# Organizational behavior
Specialized MBAs offer more advanced study in a particular area of business (such as marketing) or a particular industry (such as higher education).
To sum up – Don't jump into an MBA program without doing all the necessary research and introspection that best suits you.
Next topic I'll be writing on how I went about getting admission into business school that suited my requirements.
Good luck for your career change if it is with MBA. You may one day meet Laloo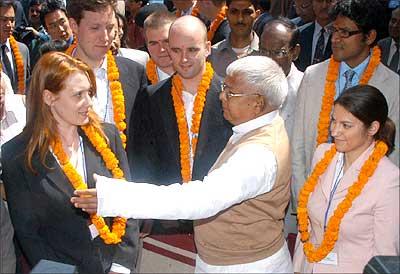 Pic to the right from rediff – A group of MBA students from the University of Texas and University of Virginia met Railway Minister Laloo Yadav in New Delhi on Friday.
The minister talked to the students on the 'Turnaround of Indian Railways'